Plumbing
Difficulty
Time Spent
4 Days
Approx Cost
$200 - $600
Main specs for American yurt companies (organized alphabetically). Updated December 2019. Pacific Yurts declined to provide information for this website.
---
What was once a difficult, specialized task, doing your own plumbing is now easier than ever.
---
Run water lines from source to yurt
On the list of essentials for a home, access to water ranks at the very top of the list. Regardless of whether your yurt is on or off the grid, their remains many options for water access. The most common is to have a well dug and pump your water up from the ground. If a well is prohibitively expensive or not possible due to geography, you can attempt to collect rainwater or collect water from a nearby stream. Your last option would be to have water delivered. This can be quite expensive and one of the least environmentally friendly options. Whatever you decide, you'll want to filter the water coming into the yurt.
The property we've built our yurt on already has a well dug. It was just a matter of hooking up to existing water lines with our own polyethylene tubing. We were able to utilize the same trench that our conduit was placed in to run the water lines out to the yurt. Make sure your trench is dug 12" below the frost line in your area. A hole in the bottom of your desired wall and through your platform will be required to run your water line inside. It is best practice to insulate any tubing the extends above the ground to prevent freezing.
---
Run hot and cold water PEX
Plumbing is again one of those things that seems a lot more challenging than it actually is. Today's plumbing is done using PEX tubing. This inexpensive plastic tubing can be found in almost any home improvement store and is extremely easy to work with—even for a complete novice. It comes in a variety of thicknesses and even multiple colors to distinguish hot water from cold water. You can connect various PEX tubes together using fittings that come in a wide variety of shapes. They are secured together using specially designed crimp rings.
Before you begin any plumbing work make sure your water line is shut off at its source. Inside of the yurt, you can then adapt your supply line into PEX tubing. You can do this with an adapter fitting that includes a shutoff ball valve. This tubing will then tee off into two directions. One direction will become your cold water line, the other will run to your water heater and will become your hot water line. Holes will need to be drilled through wall studs for the tubing. Each fixture (sinks, showers, etc) will have their own secondary line that tees off from your main hot and cold water lines.
One More Thing
Because of the small space within the yurt, it's best to design your layout with a "wet wall." One wall that contains all your plumbing. Your kitchen and bathroom fixtures will need to be oriented in such a way that they are all adjacent to this wall.
---
---
---
Install water heater
With just the two of us in the yurt, we don't use a lot of water. Because of this, we opted for a smaller 19-gallon electric water heater that can be hidden within one of our kitchen cabinets. The water heater only uses 9 amps. Tankless water heaters are gaining popularity, but require much more power for on-demand heating and often use 240v power. Corrugated supply lines will connect your water heater to your PEX tubing.
---
Build shower stall
How showers worked was another mystery that I was able to learn about on this project. Simpler than I thought. Your cold and hot water lines will extend up to a rough-in shower valve which is screwed to 2×4 blocking between two studs. Once connected, the water will mix to the desired temperature. A final piece of PEX tubing will extend up from the shower valve to a drop ear elbow. You will then screw in a shower neck and head to the elbow. Done.
The shower housing is made from an inexpensive shower pan with FRP panels for walls. Well water has a tendency to stain surfaces orange because of the iron content. To combat this, I painted the pan and the FRP panels with a high-gloss epoxy paint made for painting bathtubs. It has made cleaning the surface dramatically easier.
---
Install grey water lines
With your water supply complete, it's now time to talk about the removal of used water. Because we are using a compost toilet, there will be no traditional sewage in our plumbing. All of the water used will be considered grey water. Our grey water plumbing will be made from 2" ABS pipe (if you are installing a traditional sewage system, you will need pipe of larger diameter). Removal begins at each fixture in the kitchen and bathroom. You will begin with a P trap. This will prevent any gas from entering into the yurt (even grey water produces some gas).
The various waste pipes will join together with the use of different elbows and tees. Make sure all pipes retain a minimum ¼" slope per foot. Dry fit all pipes and fittings before gluing with ABS cement. The waste pipe will exit through a hole in the platform and extend underneath the yurt before reaching the perimeter at which point the pipe will continue down into a trench in the ground.
---
Create dry well
In our case, the final destination of the waste water is a dry well installed 15 feet from the yurt. Our budget dry well is simple. With a large unused 50-gallon trash bin we drilled ¼" holes into the sides and bottoms, each hole space roughly 2" from the adjacent holes. A large hole was drilled into the side wall near the top that matches the width of our waste pipe.
A hole was dug a foot wider than the width of the trash bin and deep enough that the top of the bin would be submerged by 1.5 ft of earth when in the hole. The hole was then lined with landscaping fabric. Filling the hole with six inches of gravel, the drywall was then placed in. Large gravel or broken up concrete is used to fill the interior of the bin. Extend the waste pipe into the appropriate hole of the dry well and fill it to the top with gravel. Place the lid on the very top. Fill the remaining hole with gravel.
Some local codes will require installing a septic tank which is a much larger project on its own.
---
Install toilet and sewage vent
Without access to city sewer lines or even a septic tank, how we manage our fecal waste becomes an important aspect to consider. Luckily, developments over the last couple of decades have introduced the compost toilet to the world. True to their name, these toilets turn a human's waste into usable compost through the act of decomposition. The crème de la crème of this bathroom necessity is manufactured in Sweden by the Seperatt company (Seperatt USA in the states). Their unique design separates a person's liquid waste from their solid waste.
The liquid waste (urine) mixes with your grey water line; the dilution that occurs makes the liquid safe to be dispersed in a dry well. The solid waste (poop) stays inside a container within the toilet. A constantly running fan inside the toilet draws any remaining odor outside. Every 2-3 weeks the container is emptied into a composting bin outside. In 4-6 months you'll have compost that can be utilized for any non-edible plants (flowers, bushes, trees, etc). The installation of the Seperatt toilet is straightforward and quick.
Position the toilet in its desired location

Access to 110v or 12v power is necessary. We put in an outlet on the wall directly behind the toilet for this reason.

Secure toilet to the floor

Screws will be driven into the floor at the appropriate locations inside the toilet.

Install vent pipe

Since our bathroom is self-standing and not adjacent to any of the yurt's exterior walls, we could not do the recommended venting through the wall or roof. The only other option was to go down and out. I drilled a 3.5" hole through the platform in a space behind the toilet. Using schedule 40 PVC, I glued together three elbows and PVC pipes of various lengths to run the vent pipe down through the floor and out from underneath the yurt—a run of about 12 feet long. The PVC pipe below was hung with the help of galvanized hanger straps. From testing, the fan worked well with suitable air pressure.

Install urine outlet

Similar idea. Go down through the platform. Underneath the platform, we connected this line to our main grey water line being sure to splice in a running trap somewhere in between.

Place solid waste container in the toilet

Include a compostable bag in the container and plug in the toilet to start the fan. The fan should be running continuously. You're ready to go!
---
Previous Chapter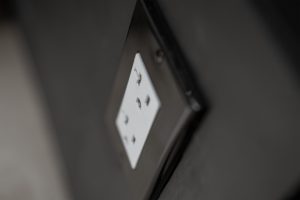 Electrical
Next Chapter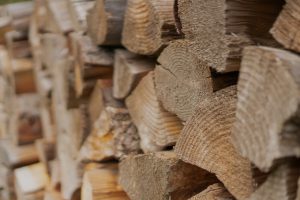 Wood Stove
---