Yurt History
Main specs for American yurt companies (organized alphabetically). Updated December 2019. Pacific Yurts declined to provide information for this website.
---
---
The Ancient Yurt
The traditional yurt (in Turkik languages) or ger (Mongolian) has origins thousands of years ago on the steppes of Central Asia. Nomadic tribes used the yurt as a portable dwelling as they followed their herds of yaks and goats across the great expanse. The early construction of this shelter utilized wood and bamboo for the frame with animal hides and felt held together with ropes and ribbons on the outside. The ornate wooden ring would traditionally be passed down through generations from father to son upon the father's death.
Even though the nomadic way of life is declining in this area of the world, traditional yurts and gers are still one of the oldest forms of indigenous shelter still used today. Due to their inexpensive and quick construction yurts are often found throughout Central Asian cities as coffee shops, museums, times in impoverished parts of Central Asia. A stylized version of the wooden crown forms the main symbol on the flag of Kyrgyzstan.
---
Modern Adaptation
In the early 1960s, a young American man by the name of Bill Coperthwaite was flipping through the pages of National Geographic when he came upon photos of the yurt-style homes in Central Africa. These photos would inspire Coperthwaite to experiment with yurt-like structures in the coming years including his time at Harvard. Coperthwaite along will Lloyd Kahn, the author of Shelter books, would help introduce the yurt to America and the counterculture movements.
In the late 70s, people began capitalizing on the yurts growing popularity. The first commercial yurt company in America was founded in 1978 with several others following in the decades that came after. These commercial yurt kits would bring new materials and innovation to the yurt structure with fire-resistant covers and increased strength. State and federal parks would begin building yurts and offering them as lodging. Now they are used as homes throughout the US and serve commercial purposes at ski resorts, hotels and music festivals.
---
---
---
Variations
While many yurt companies in the US continue with a very similar design as what was developed in the 20th century, a few companies are developing new yurt-inspired structures to help solve some of the yurts downside with solid wall panels and increased insulation. You can find also find many circular, yurt-like buildings in some of the top design and architecture magazines today. We will continue to see people push the boundaries of what is possible with the yurt.
---
Next Chapter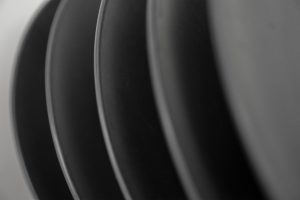 Is it for you?
---